by Amanda Melcher, MLIS
Carmichael Library
University of Montevallo
Abstract
This article describes a library wayfinding modernization project undertaken at a small, public liberal arts university with a limited budget. The project was a creative partnership between the campus library and a graphic design class to create and update physical signage in reaction to library space reconfiguration and remodeling. This collaboration combined the skills and knowledge of a graphic design professor, her Environmental Design class, and the library staff. The process is described from start to finish, including reaching out to the professor, creating a signage inventory, working with the class, selecting the winning design, communicating with campus stakeholders, coordinating the installation of the new signage, and more. This project-based collaboration could easily be recreated or restructured to work within a number of budgets and specific needs.

Introduction
The University of Montevallo (UM) is a small, public liberal arts university with a full-time student enrollment of 2,299 and one campus library (Carmichael Library). It employs four full-time and one part-time paralibrarians and seven full-time librarians. Carmichael Library houses approximately 190,000 print volumes and has three floors, one of which contains two non-library departments: an IT help desk and a student tutoring center. There were several factors that precipitated this project. Firstly, the last time the signage and wayfinding aids were comprehensively overhauled was the mid-1990s. Since then, the building has had several major construction and weeding projects that have reconfigured the spaces. Whole departments and collections have switched floors, a new entrance was added, and several new spaces have been created (e.g., a digital media lab, a special collection room, and a multipurpose meeting/event room). Secondly, signage and wayfinding aids in the building were either inaccurate or nearly non-existent. The signage that remained was often outdated or a mixture of different designs. A third factor that led to the redesign was the need to brand the floors. There has always been confusion about the levels (Ground, First, and Second), and with the ground floor and first floor both having a main entrance, it created confusion around which floor was considered the "first".
With these factors in mind, the library began a wayfinding modernization project. This article describes the steps taken to bring this project from concept to completion. First, the author researched best practices and got buy-in from the library director and staff, which helped create the framework and establish the budget for the project. The next two moves were essential and time-sensitive: find a collaborative partner on campus and run the project details by campus stakeholders. In cooperation with the campus collaborator, the next step was to create the parameters and expectations for the project. Finally, the author will discuss vendor selection, signage installation, and offer some advice for recreating this type of project in other libraries.
Literature Review
For this paper, the word "signage" indicates the physical objects used to assist patrons in navigating (also known as wayfinding) the library spaces, collections, and services. In-Ja Ahn (2011) describes the role of a sign "is to identify, inform, direct, restrict or permit" and effective signage "helps visitors find their way, makes information accessible, [and] provides enhanced experience" (2011, p. 15). The word "wayfinding" is defined by Mandel (2017) as "the process by which humans orient themselves in and navigate a space" (p. 134). As information professionals, librarians are particularly interested in how their patrons use the library to access both digital and print information resources. This necessitates an understanding of how those patrons navigate the physical spaces of the library.
Effective navigation of a space is complicated by both the complexity and novelty of the space (Li and Klippel, 2012). Library patrons are presented with a three-fold challenge when seeking out information. Mandel (2017) articulates that patrons "need to orient themselves to the library space, navigate to a source of assistance [e.g., catalog, library staff], and then navigate to the resource(s) that fulfills their information need . . ., the latter of which patrons are less likely to acknowledge consciously" (p. 134). Eaton (1991) echoes the idea that patrons often come to the library with information needs, but the simultaneous need to figure out how to use the library only adds more confusion. Patrons have difficulty finding specific items in the collection because most books are approximately the same size and shape, shelved in nearly identical long stacks. These tall, repeating shelves can make libraries feel like a labyrinth (Li & Klippel, 2012; Mandel, 2017; Rakshikar and Powdwal (2020).
It is instinctual for librarians to try to decrease patron confusion. If the same questions are asked repeatedly, it may seem logical to add signs that will address those questions. With library staff cuts, this becomes more relevant and prevalent. Although open stacks are not typically staffed, having fewer people or less coverage at existing help desks can result in confused patrons, or as Mandel (2017) labels it "the necessity of self-sufficiency brought on by reduced staffing" (p.139). However, Eaton (1991) points out that signs don't always help patrons access what they need, for example, maybe the sign is too wordy or not relevant in the moment of need. In other words, with an overabundance of signage, a deficit of staff, and a confusing maze of books, library patrons must maneuver a confusing terrain.
Recognizing some of the common factors that make signage ineffective can help aid in creating good signage. To that end, Barclay and Scott (2012) identify some of the common factors that define bad signage:
Overly wordy
Incorrect size, poor kerning, or illegible fonts
Inadequate color contrast between lettering and the background.
Unclear meaning of wording or symbols used
Poor construction or cheaply made
Installed crooked, too high/low, or attached with tape or thumbtacks.
Difficult to see or not placed at the point of need.
Tattered looking or the information is out of date
One of the main ways to combat patron confusion is by incorporating useful wayfinding aids. Investment in creating good signage is important, and "libraries need to recognize that signage is a powerful communication medium with as much—if not more—impact than more high-profile and often more valued electric and print media" (Barclay and Scott, 2012, para. 2) Without wayfinding tools, those high-priced resources can remain inaccessible to some users.
A broad consensus exists in the recommendations for effective signage: it must be easily readable, intuitive, simple, customized for the place and the people that will use it, strategically located, and noticeable without negatively affecting the surroundings (Ahn, 2011; Barclay & Scott, 2012; Eaton, 1991; Polger, 2021; Rakshikar & Pawdwal, 2020). Barclay and Scott assert that the signage "should be built on a unified architectural signage system that enhances wayfinding and identifies spaces" (2012, p. 37). This means that signage should be integrated into the environment, not simply added ad hoc. Nonetheless, there should always be contingencies for sign changes (e.g., when collections move) or temporary needs (e.g., need to publicize an event). In their study about the predictability of wayfinding problems in an academic library, Li and Klippel (2012) found that adding signage is an effective and easy way to improve navigation "in areas [where] visibility and connectivity are low while layout complexity is high" (p. 36).  Library stacks, which oftentimes impede sight lines and disrupt the flow (a.k.a. connectedness) of a space are a prime example of layout complexity.
Eaton (1991) offers some guidance about how to make signs more salient: reduce warnings and reprimands, and provide text that's clear and readable. She warns that while inconspicuous signage may be more aesthetically pleasing, it's also harder to see and, therefore, defeats the purpose. "When an environment has a high layout complexity, all wayfinders have difficulties regardless of their familiarity" (Li & Klippel p. 36). To help combat this, there should be commonalities throughout the signage design, such as color, font type, and sign size. A cohesive signage environment provides navigation help where and when patrons need it most.
Research shows that effective signage helps people get what they need with autonomy and agency, leaving them feeling confident and capable. It is just-in-time instead of just-in-case, meaning that it is presented to patrons at the exact place and moment it is needed. Conversely, ineffective signage hinders self-sufficiency and can convey negative connotation. Bad signage can leave patrons feeling confused and frustrated. Like many things that just work, successful signage may not draw a lot of attention. On the other hand, everyone has had an experience with bad library signage, be it aggressive (ALL CAPS), snarky, too small, too large, completely mismatched, filled with library jargon, or incorrect. Signage can range from great to ineffectual to downright awful. Signage is often created as needed by whoever deems it necessary to address a problem. This leads to a lack of cohesiveness often characterized by mismatched fonts, colors, sizes, tone, and design elements. This hodgepodge of signage can create barriers to wayfinding in the library.
Project
Evidence-based research shows the importance of effective signage for library navigability. To that end, Carmichael Library decided to embark on a signage redesign and enhancement project in the hopes of aiding our patrons in their information pursuits and resource discovery. While we had digital signage that streams throughout the university to highlight library events, we were missing basic wayfinding help (e.g., where is the restroom, where do I check out books, get research help, etc.). With the support of the library director, the first step we took was to form a signage committee. During a regular library staff meeting, I called for volunteers. Having staff volunteer meant they had a genuine interest in the project. Luckily, two of our highly creative staff offered to serve, and we formed a team made up of the cataloging assistant, the circulation manager, the library director, and the head of technical services. This signage committee met and emailed as needed and updated the entire library staff periodically on our progress. For some of the bigger decisions, such as potential collection name changes, we consulted the larger staff for feedback.
Funding for this project came from a university foundation account designated to make improvements to the library. After reviewing this account, the library director set the budget at $4,000. Because of the limited budget, the first thing we considered was a potential partnership across campus. In the spring of 2022, I reached out to a professor of graphic design in UM's art department and proposed a possible collaboration between the library and one of her classes. The professor was interested but had a few stipulations: that we would compensate the students for their design and that the library would adopt the winning design wholesale. This did not mean that we couldn't make changes to the design, but rather, that we would not combine elements from the other teams' designs. We agreed and she proposed that the creation of library signage could be one of the major assignments in an upcoming Environmental Design class scheduled for fall 2022.
This gave us time to research best practices, do a signage inventory, contact campus stakeholders, and plan for the project. With the help of circulation desk student workers, we identified all the signage in the building and categorized it by type. This audit identified every sign's floor/location, type (e.g., service point, directional, and informational), and notes (i.e., is the sign damaged or redundant). These are the categories that worked best for us, but they could easily be changed to fit different needs. There were 136 total signs in the library, which included several duplicate signs. We sent the audit to the professor to give her an idea of the scope of the project and scheduled a tour of the library with her in late summer 2022, before the start of classes. The tour was helpful because it enabled the professor to visualize the scope of the project and see past the sticker shock of the 136-sign total.
An important step in this project was to check with campus stakeholders to ensure we were in compliance with any university and/or government rules, polices, and obligations (we are a public college). Like most universities, UM has brand standards that specify what colors, fonts, icons, and logos must be used in official university communications. We contacted the university's marketing and communications department to inquire if there were any signage standards with which we needed to comply. They reassured us that as long as the design was internal and was not going to be used in any official university communications, there were no restrictions. We also contacted UM's physical plant, which handles all building maintenance, construction, and renovation. They were supportive, but requested that we coordinate the install. The physical plant director also requested a meeting between himself and the installer to make sure no required signage (e.g., braille, room capacity) was removed or replaced. Because the library houses the IT help desk and the tutoring center, and they had their own existing signage, we contacted each department to ask if they wanted to participate in the project (one opted in and one did not). Finally, we contacted UM's business office to ask about the need to bid things out and/or if there were preferred vendors. Because our estimated total was below the state bid amount, we had no restrictions or preference on vendors.
The next step was to craft the assignment. With the professor's input, it was decided that the library would be the "client" and the library signage/wayfinding project would be the "job". See Appendix A for the job description we distributed to the students. In addition to providing the job description, the signage committee met with the Environmental Design class in the library in mid-September to describe the project, answer questions, and give a tour of the building with special emphasis on the signage.
Figure 1: Students brainstorm library signage needs.
The professor put the class into three teams with three or four students in a group; each team would propose a comprehensive signage plan. Following the library tour, we did a fun thought exercise. Armed with a bright array of multi-colored post-its, the class was tasked with brainstorming responses to a problem. This included thinking about and responding to the following questions:
I am a ______ (e.g., student, faculty member),
I'm trying to ______ (e.g., print, find an article),
But I can't because ______ (e.g., I can't find a printer, don't know what floor I need)
It made me feel ______ (e.g., confused, frustrated).
Figure 2: Signage activity example.
This exercise presented us with some helpful data. The students offered a user experience perspective that could not be replicated by the staff. A few big changes came from this endeavor: first we changed the name of the circulation desk. The students expressed that they had no idea what the name "circulation desk" meant. After we explained the activities that happen at that desk, they pointed out that "check-out desk" would be much more descriptive of what happens there. We also renamed the bestseller/new book collection from "browsing" to "popular reading" after the students pointed out that browsing was a meaningless term to them.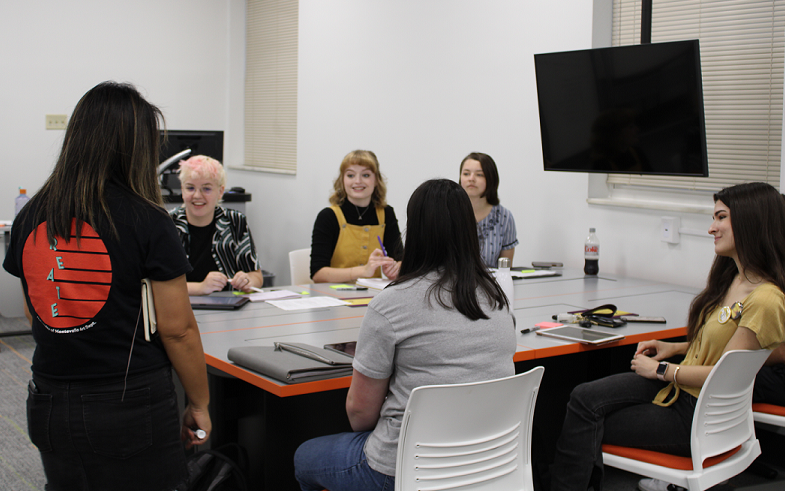 Figure 3: Graphic design professor works with the class.
With the job description outlined, it was time for the students to get to work. The budget was $4000 or under and UM's marketing and communication department provided average pricing for a variety of sign sizes based on previous projects across campus. This gave the students an estimate to plan their budget. The signage committee planned to meet with the class two more times: once to see the progress of the three groups and offer feedback, and lastly, to see the final proposals and select a winning design.
We were pleased with the class's progress at the second meeting, which took place three weeks after the initial meeting. When each group presented their proposal, only the signage committee and the professor were present. It was beneficial for the signage team to see each group's initial ideas and offer feedback/course correction before the final presentation. The committee used a scoring rubric provided by the professor, which rated each group's proposal based on the following factors: concept, creativity, presentation, professionalism, artwork, and progress
At the final meeting with the class, five weeks after the assignment was introduced, each group presented their completed signage plan. We again used the rubric, discussed our feedback, and came to a consensus on the winner. Although the library signage design was part of an assignment in a credit-bearing course, the professor felt that it was important that the winning team be compensated for their work. We agreed to award each student in the winning group $150 for the perpetual use of their design. This engendered good feelings, as we had to go back to the students for a few minor changes and additions into the next semester. While each group presented great work, the winning team's plan was the most cohesive and best met the library's needs.
Figure 4: The winning team in front of the library.
There were several aspects of the winning design that really stood out to the signage committee. Firstly, the group created three color palettes and took the initiative to poll students across campus for their preference. The group carefully considered the harmony of the existing colors in the building and the use of the spaces in their color choices. The colors had meaning, they explained. The yellow they selected for the top floor (designated our quiet study floor) was a soothing shade. On the main floor (active level with the circulation and reference desks), they used a pleasant, but energetic turquoise that worked well with our existing colors. They selected a vibrant orange for the ground floor, which is designated the group study floor and includes the IT help desk, the tutoring center, and the digital media lab and is by far the noisiest floor.
Secondly, the group chose to include icons to visually distinguish between spaces, collections, and policies. For instance, each meeting/classroom space used an icon depicting a wall with an open door and study areas used an icon of a student writing at a desk. The icons were clear and simple, and there are many to choose from if we need to add another icon later. Thirdly, they considered accessibility in their design: their color choices meet ADA compliance for color-blindness and the icons are black, uncomplicated, and repeating. They focused on sign readability, with high contrast between the text and background colors and a simple, legible font. The group's use of text, icons, and color created multiple visual cues.
Finally, in addition to the sign files (in both Adobe Illustrator and PDF versions), the group created a signage guide, which included the name and size of the fonts, sign sizes, color codes (HEX, RGB, and CMYK), the source for all icons they used, and recommended hanging instructions (e.g., the distance from ceiling for hanging signs, the height vinyl signs should be applied on walls), and created photoshop images of the signs in the spaces. This guide proved useful later when our vendor installed the signage.
Installation
Once the design had been selected, it was time to find our vendor. Originally, the committee wanted to use a specific vendor in our town, but after they saw the signage files, they informed us that the design was beyond their capacity. After a search for other vendors, we identified one that was still geographically close, had great reviews, and provided a reasonable quote for production and installation. We met with the vendor twice in spring 2023 before installation: once at their shop to see a few sample signs and check the colors for accuracy and a second time at the library, to discuss installation specifics such as where and how to mount the signs.
 Figure 5: A few examples of the new signage in the library.
While there were a few hiccups with the installation, overall it went well.  We wanted to get the signage up before the students left campus in May, but it just wasn't feasible. This meant that the winning group was not on campus for the reveal. However, there was a benefit to the delay. Since the installation happened during the summer term, the library was less busy and therefore, the install caused minimal interruption for students and faculty. A delay occurred when the installers hung two vinyl directional signs without checking the location with us. This meant the vinyl had to be pulled down, discarded, reprinted, and hung again on return visit. The incorrectly hung signs also left a sticky residue on the walls that had to be scrubbed off. Other than some typical scheduling difficulties and a few signs that needed to be enlarged and reprinted, the installation was a big success. Library staff were excited to see the new signage in place.
Recommendations
This collaboration was overwhelmingly positive, with only a few minor setbacks. Following are a few suggestions with context and advice that might help if you plan to attempt something similar:
Identify the collaborator and the class at least one semester in advance so the project can be built into the syllabus.
Anticipate ongoing dialog with the winning group after project completion and factor this into when the project will fall in the semester.
Put a lot of thought and time into the "job description" (preferences vs. must-haves). Since we only met with the class a few times, they relied heavily on this document to complete the project.
In addition to the assignment being tied to a credit-bearing class, we appreciated the professor's stipulation that we pay the students for their work. Because the library was the client, we felt comfortable contacting the group for help into the next semester. Though their class had ended, the group was still very responsive and helpful.
Request files that are easily editable (e.g., Microsoft Word or PowerPoint) so that library staff can make changes as needed. Most of the files that the group created for the library were PDF and Adobe Illustrator, but we needed more commonly accessible files.
Try to anticipate future needs. Due to time constraints, it was impossible for the teams to create every single sign the library needed. But, by creating simple designs that were easily replicated, the winning group left us able to create future signs that will be consistent with their vision and meet our needs.
Select your vendor/printer before you give the assignment to the students to get a more accurate cost projection. Our final cost was about $1,000 over our estimate.
While the installation team is in the building, it is helpful to have a signage committee member with them to answer questions and prevent mistakes.
Conclusion
Wayfinding is a fundamental aspect of effectively using a multi-function space. Libraries, with their complicated classification systems, multiple service points, and varying number of distinct collections housed in different areas/floors, exemplify the complex job that signage must accomplish. Still, it's also important to acknowledge that signage cannot fix bigger problems or deficits in the space (i.e., collections being split in illogical ways, physical barriers, or low staffing). While our library is now more navigable on the whole, there is still a need for additional signage. Our future plans include continuing to brainstorm about how to utilize color on each floor, creating a color-coded map of the library, placing location guides at points of need, and integrating digital signage with the new physical. Library of Congress classification guides on the stack endcaps and subject heading details (possibly using icons) would help orient students and enhance browsability.
The library signage committee is delighted with the outcome of our collaboration with the graphic design class. We will be able to take the design elements provided by the creative graphic design students and enhance user experience in the library. Having the student perspective incorporated into the new design was invaluable because they are our main user group. The partnership was a win-win: it provided a user-centered design for the library and a real-world graphic design job for the students. The committee is confident that the new signage will improve wayfinding in the library. The project started in spring 2022 and wrapped up in summer 2023, but this could easily be shortened or extended to meet different needs. This type of collaboration could easily be recreated or restructured to work within a number of budgets and timelines.
Figure 6: Timeline for Signage Project
References
Barclay, D. A., & Scott, E. D. (2012). Directions to library wayfinding. American Libraries, 43(3/4).
Eaton, G. (1991). Wayfinding in the library: Book searches and route uncertainty. RQ, 30(4), 519-27. https://www.jstor.org/stable/25828878
In-Ja Ahn. (2011). Contents development of library signage manual in Korea. International Journal of Knowledge Content Development and Technology, 1(2), 15–27. https://doaj.org/article/c44b62015bda45dd8998dcb6e81f69f9
Mandel, L. H. (2017). Wayfinding research in library and information studies: State of the field. Evidence Based Library and Information Practice, 12(2), 133–148. https://doi.org/10.18438/B8395P
Polger, M. A. (2022). Library signage and wayfinding design: Communicating effectively with your users. ALA Editions
Rakshikar, N., & Powdwal, S. (2020). Wayfinding behavior of university library users in Mumbai: An explorative study. DESIDOC Journal of Library & Information Technology, 40(2), 461-469. http://eprints.rclis.org/39862/
Rui Li, & Alexander Klippel. (2012). Wayfinding in libraries: Can problems be predicted? Journal of Map and Geography Libraries, 8(1), 21–38. https://doi.org/10.1080/15420353.2011.622456
Appendix A
The Job
Comprehensive Signage/Wayfinding throughout Carmichael Library to help patrons navigate the space and collections. Because library collections and service locations move periodically, "plug and play" template files that can be edited/updated and reprinted as needed would be ideal for this project.
YOU are the user, what would make the library easier for you to navigate?
Library Signage Best Practices (Polger, 2022, Library Signage…)
Library should have a directory at each entrance
Less is more
Signs should be consistent in text and design, informative, and user-friendly
Signs are most important at key decision points
Sign Templates: Number/type of templates is at the discretion of the graphic designers, but here are some examples
Service Point Template Examples (large sign)
Locations: Research Help Desk, Circulation Desk, Welcome Desk, Solution Center, Digital Media Lab, EBSCO Room, Archives, Printers
Collections: Reference, Youth, Browsing, Circulating, journals, DVDs, Music CDs, etc.
Directional Template Examples (medium-large)
What floor are you on (G, 1st, 2nd) and what's on each floor, what's the noise level of floor: Ground is for Group Study, 1st is Moderate Noise level, 2nd Floor is for Quiet Study
Where is the…Elevator, Stairs, Restrooms, Public Computer Areas
Map of Building
Informational Template Examples (small)
Hours, Policies/rules, Alarm will sound, Emergency Exit, Do not enter, etc.
Technology Template Examples (small)
Computer login instructions at the computer stations
How to print/connect to Wifi
Sign Budget: $4,000
Sign Types: Sign type is at the discretion of the graphic designers, but can be a mixture of vertical, horizontal, freestanding floor, hanging from ceiling, utilizing columns and empty walls, etc.
Sign sizes: Sign size is at the discretion of the graphic designers, but here are some examples:
Large (visible from further away: Entrances, Collections, Locations) approximately
Medium (visible a few feet away: e.g., Stairs, Emergency/not an exit, etc.) approximately…
Small (visible close-up: how to print/log-in to computer, hours, etc.) approximately…
Sign Materials: Sign size is at the discretion of the graphic designers, but some examples include paper, vinyl, foam board, kiosk, frames, etc.
Sign Coloration: Sign color is at the discretion of the graphic designers, except for UM logos used
The library retains the right to make edits to a design to meet any changing needs of the library.